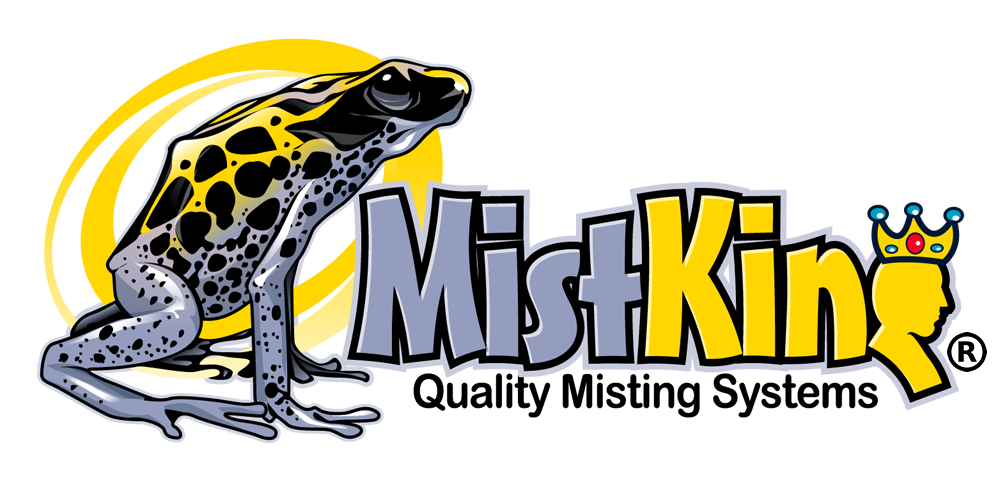 We tried other methods and misting systems, but none of them gave us the results that the MistKing system gave us. We are so pleased with the results, that we became an authorized dealer of MistKing Misting Systems. You can use a misting system for many different applications. Naturally a MistKing system is ideal to use on your vivarium or terrarium for your amphibians, reptiles even for birds and other animals. However did you know you could use a MistKing misting system in you green house or use it to grow the most finicky orchid. You can even use a MistKing Misting system to cool your patio on a hot summer day or mist a produce section in a grocery store! The MistKing misting system is versatile and durable enough to take on you misting project. It's no wonder that MistKing is the best misting system available in Canada, USA and around the world.
Which Misting System Is The Best For Me?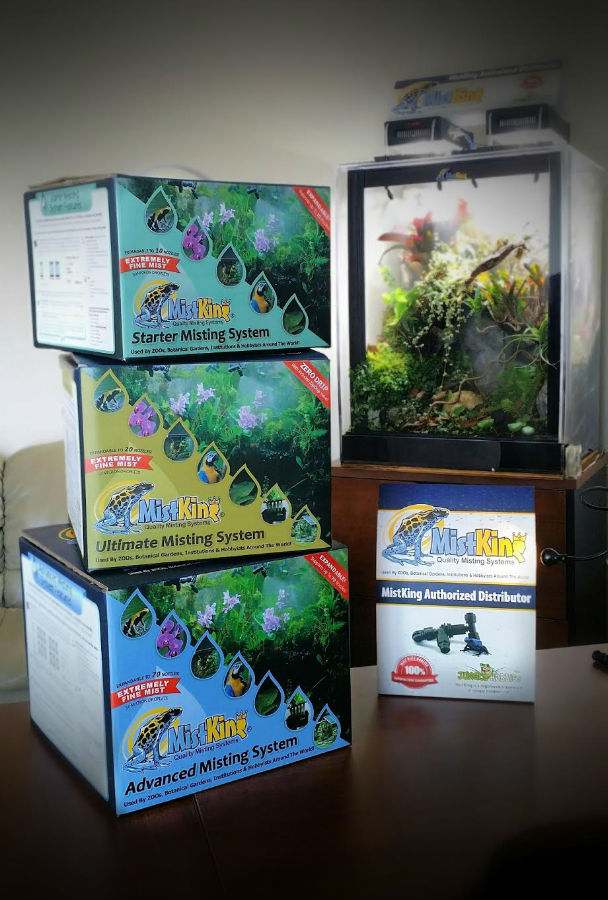 The  MistKing System that most people purchase is the Value Starter Misting System. Featuring the latest 24V diaphragm pump, which is capable of running dry (not that you will want to) The Starter Misting System comes with 1 misting nozzle and can be expanded to 10 nozzles. Every MistKing nozzle is tested, and features a check valve which greatly reduces excess drip when misting is complete. Each nozzle features 3 x 360 ° pivot points giving you the most versatile misting nozzle available. The MistKing Seconds Timer is included with every Starter Misting System. Even the rechargeable Ni-MH battery is included with the Seconds Timer!! You can program up to 8 events right down to a single second. This means you can mimic the natural jungle environment your critters are from. You can create a light fine mist to a torrential monsoon season with you MistKing System.
For folks that need a little more, look to The Ultimate Value Misting System. This work horse of a pump features an upgraded diagram pump capable of running 20 misting nozzles. In the box you'll get a bunch of goodies, such as the Seconds Timer, Manual ball valve, "T" connector and "L" connector and more. However it's the ZipDrip that's comes in the box that takes the center stage of accessories. The ZipDrip is a valve that plugs in between your misting pump and your water reservoir, which transforms your Mist King System in to a ZERO Drip misting system.
If you're looking for a misting system with significantly more power than the Starter and the Ultimate system then you'll need the MistKing Advanced Misting System. Featuring a 125 PSI run dry diagram pump, this system is not holding back!! While it's not recommended to run the Ultimate Misting System with less than 20 misting nozzle this power house can run 70+ nozzles, depending on the complexity of your project. More power means more water, as such the Advance Misting System is equipped with 3/8" pump fittings. In the box you'll get 2 reducing Tee Connectors and a reducing elbow that will convert the 3/8" tube down to a ¼" tube. This allows you to run any of the Value Nozzles that MistKing offers. You also get the Seconds Timer, 12x Value "T" nozzles and 3x "L" nozzles, plus a bunch of other goodies.
Check out Jungle Jewel Exotics Store for all the MistKing Systems and additional parts you'll need for your misting project.
For additional parts not found in our store please Contact us or visit Mist King for more info
Happy Frogging